Our Story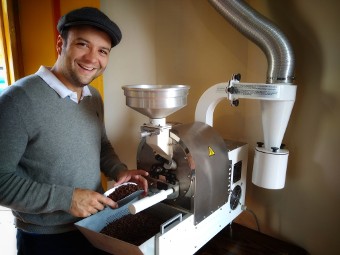 MOCAFE is a coffee roastery and cafe in the beautiful pueblo of Filandia, in the heart of Colombia's Eje Cafetero (coffee region). You can find us in an old house on Calle del Tiempo Detenido (the Street Where Time Stopped). We sell our coffee locally in the roastery and ship to all areas of Colombia and internationally.
We travel throughout Colombia visiting farms and cooperatives looking for the best coffee. These personal visits allow us to learn about the coffee's quality, characteristics and benefits. We gain an understanding of production methods, the management of natural resources and the environmental conditions. The social condition of the workers is fundamental in our decisions of which farms to work with.
Our coffee is roasted in small amounts. In contrast to industrial roasters, where large volumes are roasted quickly at high temperatures, we adjust the temperature and duration to achieve the best flavour and aroma and to eliminate chemicals. We learned this technique from the roaster Alfons Schramer in Luxembourg. This process allows our coffee to be consumed by people with stomach sensitivity or who suffer from ailments such as gastritis.
Most of our coffees are from farms here in Quindío. We also work with some small farms in Antioquia and Huila.
History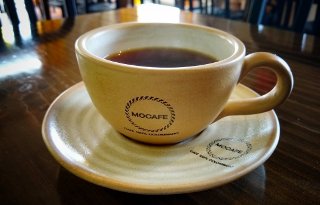 In the 1930's our grandfather, Pedro Mora, established several coffee plantations in the municipalities of Montenegro, Circasia and Cordoba, which were continued by several of his children. Following this coffee orientation inherited from our elders, we acquired a small plot in the village of Barcelona, ​​Calarcá, where we started a coffee crop of the Castilla variety. The most important characteristic of this plantation is that the coffee trees are interspersed with fruit trees, timber trees, cocoa bushes and a great diversity of floral plants. This proximity of the trees to diverse plants and the wonderful work of bees, insects and birds make the pollination very varied and gives the coffee a unique rich flavour.
In 2010, we had the opportunity to work in Heidelberg, Germany with Florian Steiner, several times champion of roasting in that country. He shared his knowledge of roasting and barista. In 2013 we opened our first coffee shop in Luxembourg, under the name of Golden Bean – The Coffee Experience, a name that has an excellent reputation as can be seen on TripAdvisor.
In 2017, we opened our roastery and cafe in Filandia. We were grateful to receive advice and training from one of the greatest coffee connoisseurs with the most experience in roasting in Europe, Mr. Alfons Schramer of the firm Mondo del Caffé. We restored and installed the first roaster of the Golden Bean company. It's a small, robust artisan machine that gives a very high quality roasting.
Read reviews on Tripadvisor.